Boughton History
Please click here for more pictures of Boughton's History
Boughton Tithe Map 1840
Boughton Tithes Apportionment
Boughton Tithes Apportionment Transcribed
Boughton Tithe Map 1840 with Apportionment Overlay
Boughton Baptism (1813-1974), Marriage (1837-1991) and Burial (1813-1991) Registers
Boughton Parish All Saints' Church Registers
Boughton Parish Meeting - Historic Records
A General Study of Boughton
In 1969 Mr Bill Miller's son David produced a study of Boughton as part of a school project. Interviewing key Farmer's in the village of the time, this provides a fascinating insight into the vitality of Boughton as a rural farming village.
To view the original click here.
To view a transcription of the original click here.
Parish Birth Marriage and Death Registers
The Boughton Parish baptism, marriage and funeral records are available on computer CD with a user friendly menu and search system to enable easy location of a record of interest. The cost is only £10, with all proceeds going to the Parish. If you would like to order a copy please contact via email at kevfisher@f2s.com or telephone 01366 502224.
Parish Meeting Records
The Boughton Parish Meeting records are available on computer CD with a user friendly menu and search system to enable easy location of a record of interest. The cost is only £10, with all proceeds going to the Parish. If you would like to order a copy please contact Kevin Fisher via email at kevfisher@f2s.com or telephone 01366 502224.
Parish Meeting Financial Statements
Recent old records have surfaced and these have been scanned for viewing on this website. The original records are available at the Norfolk County Records Office.
Financial Statement 1952
Financial Statement 1953
Financial Statement 1954
Financial Statement 1955
Financial Statement 1956
Financial Statement 1957
Financial Statement 1960
Conservation Area
Boughton was confirmed as having Conservation Area status on 18th April 1977 by the West Norfolk District Council.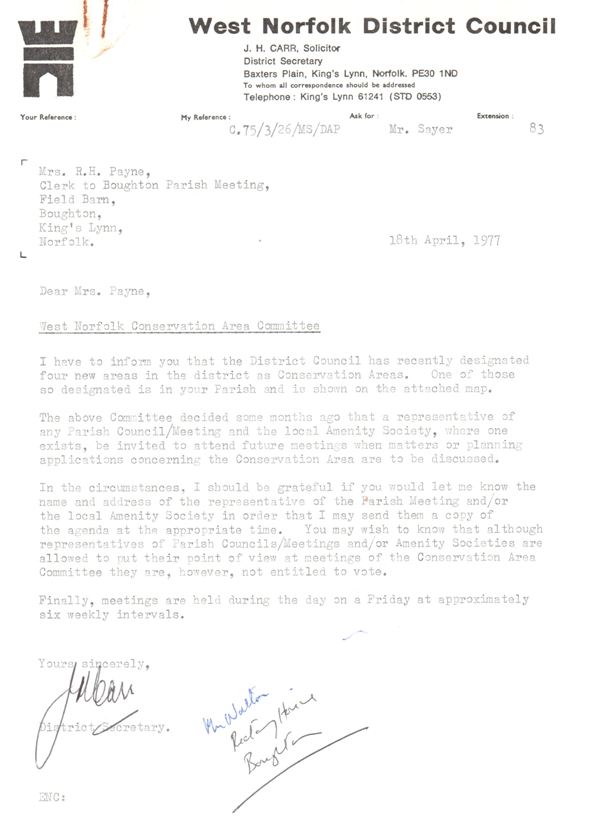 Conservation Area Confirmation Letter 18th April 1977

Map Showing Boughton Designated Conservation Area Boundary as of 1977
On 7th February 1992 there was a re-designation of the boundaries as confirmed by the Borough Council of King's Lynn and West Norfolk.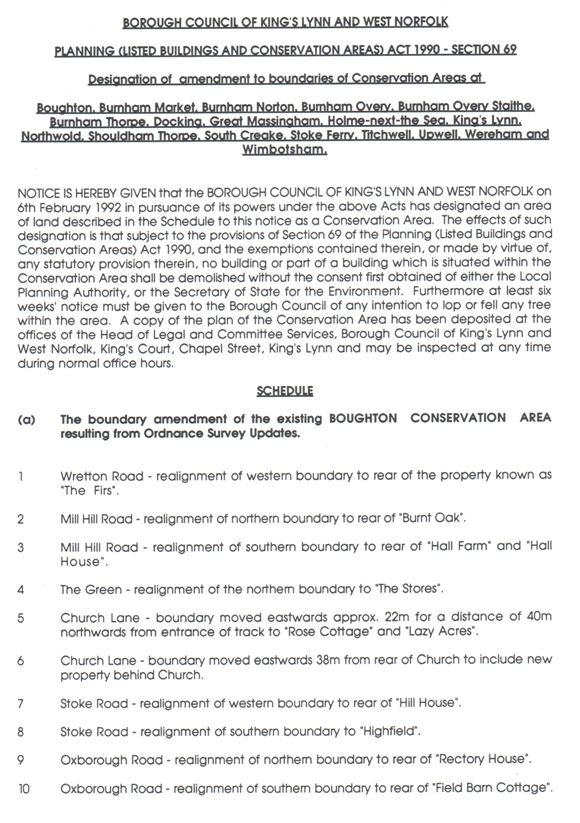 Conservation Area Re-Designation Confirmation Letter 7th February 1992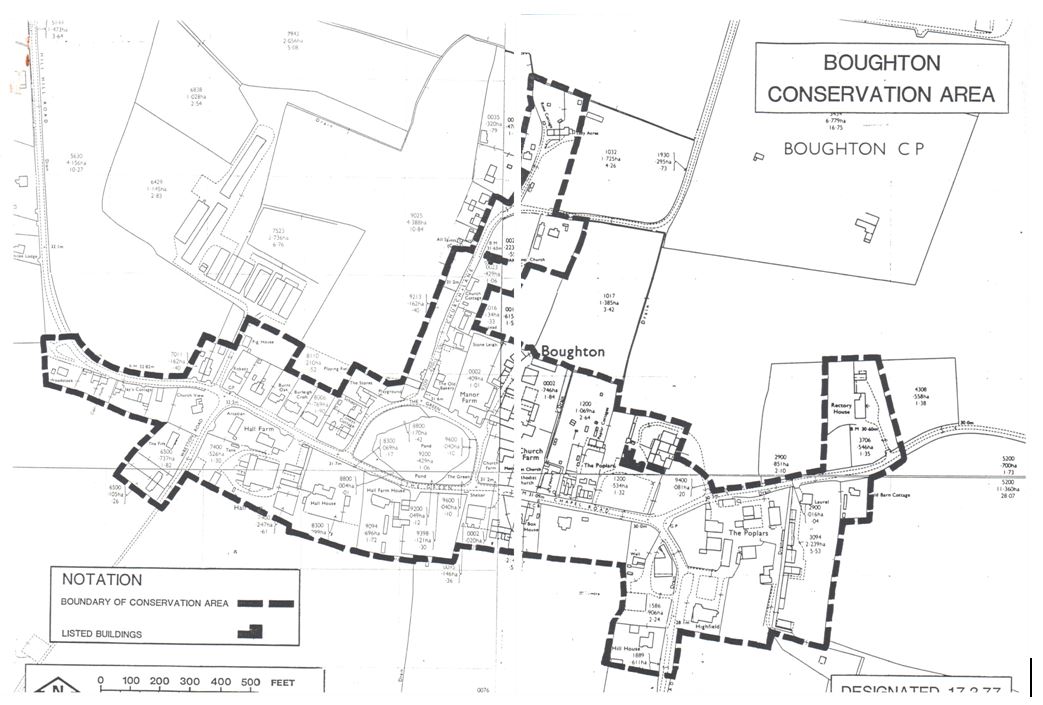 Map Showing Boughton Re-Designated Conservation Area Boundary as of 1992
The Domesday Book
Boughton was mentioned in the Domesday book under the old heading Buchetuna. The extracts below are transcripts from the original entries that describe Buchetuna
Translation of Little Domesday Book - Reginald Fitzivo
Boughton Thorkil held TRE. Now Ranulf holds [it]. [There has] always [been] 1 carucate and 24 acres. And [there are] 5 villans. Then [there were] 2 slaves. [There have] always [been] 10 acres of meadow. And [there is] 1 plough in demesne. [There has] always [been] 1 horse and 4 head of cattle and 8 pigs. [There are] 126 sheep. To this manor belong 5 sokemen at 12 acres and the same man holds [them]. Then it was worth 40s. ; now 62[s.] 6d. The whole of Boughton is 5 furlongs in length and 4 in breadth. And it renders 8d. of 20s. of the king's geld.
Translation of Little Domesday Book - Ralph Baynard
Boughton Æthelgyth held: 1 carucate. Then [there were] 5 bordars; now 7. Then [there was] 1 slave. [There has] always [been] 1 plough in demesne. Then [there was] 1 plough belonging to the men; now half [a plough]. And [there are] 6 acres of meadow. [There has] always [been] 1 horse and 1 cow. Then [there were] 11 pigs. [There have] always [been] 100 sheep. And [there is] 1 church, 20 acres, and [it is worth] 20d. And it is worth 40s. To this manor belong in soke 7 sokemen at 30 acres of land. And [there are] 4 acres of meadow and 1 plough. And it is worth 10s.
Boughton is a small village and civil parish in the English county of Norfolk. It is situated some 10km east of the small town of Downham Market, 20km south-east of the larger town of King's Lynn, and 55km west of the city of Norwich. For the purposes of local government, the parish falls within the district of King's Lynn and West Norfolk.
William White's History, Gazetteer, and Directory of Norfolk 1845 describes Boughton as a small scattered village, 1½ mile N. of Stoke Ferry, and 6 miles E. by S. of Downham, has in its parish 209 souls, and 1,322A. 2R. 17P. of land, belonging to Sir H.R.P. Bedingfeld, Bart., the lord of the manor, except 30A. of glebe, and about 200A. belonging to Mr. Roper.
All Saints Church has a square tower and three bells. The chancel was rebuilt 40 years ago. The living is a discharged rectory, valued in the King's Book at £10, and now having a yearly rent of £418 in lieu of tithes. Sir W.J.H.B. Ffolkes is patron, and the Rev. George Hunt, incumbent.
At the enclosure, land was allotted to the poor for fuel.
Directory:-
Rev. Thomas Drosier, B.A. curate
Samuel Smith, Victualler, The Bell
David Cooper, Shoemaker
George Deady, Shopkeeper
Daniel Harpley, Gamekeeper
Farmers
William Roper
Edward, Simeon and William Steward
Francis White's History, Gazetteer and Directory of Norfolk 1854 further details that Boughton has in its parish 210 inhabitants, 44 houses, and 1,323a. 1r. 27p. of land, the property of Sir R. P. Bedingfield, Bart., the lord of the manor, except 30a. of glebe, and about 200a. belonging to Mr. Roper.
The Church, dedicated to All Saints, has a square tower and three bells. The living is a discharged rectory, valued in the King's book at £10, and now having a yearly rent of £418 in lieu of tithes. Sir W. J. H. B. Ffolkes, is patron, and the Rev. Smith Churchill, incumbent.
At the enclosure 42a. 3r., was allotted to the poor for fuel.
Directory:-
Rev. Churchill, incumbent ;
Daniel Cooper, Shoemaker ;
George Deady, Shopkeeper ;
Elizabeth Fyson, School-mistress;
Christmas Fyson, Carpenter and Millwright ;
William Garner, Farm Bailiff ;
Henry Trundle, Victualler The Bell and parish clerk
Farmers
Robert Carter,
Charles Cheetham,
Jas. Debenham
Cornelius Green
William White's History, Gazetteer, and Directory of Norfolk 1883 describes Boughton as having 236 inhabitants in 1881, living on 1323 acres, of which 36 are waste. The rateable value is £1987 15s. Sir H.G.P. Bedingfeld, Bart., the lord of the manor, owns all the soil, except 30A. of glebe, 60A. of poor's land belonging to Oxborough, and about 350A. belonging to Richard Harwin, Esq.
All Saints has a nave, chancel, south porch, and square tower with three bells, and was rebuilt, except the tower, in the Early English style in 1872, at a cost of £1000, raised by subscription. The Registers date from 1729. The discharged rectory, valued in the King's Book at £10, and now having a yearly rent-charge of £418 in lieu of tithes, is in the patronage of Sir W.H. Ffolkes, Bart., and incumbency of the Rev. Smith Churchill, M.A., who has a residence, erected in 1858.
At the enclosure, land was allotted to the poor for fuel.
The handsome Gothic Wesleyan chapel and day and Sunday school adjoining was erected in 1871-2 by Richard Harwin, Esq., at a cost of £1200. The day school is attended by 50 children, and is supported by Richard Harwin, Esq., aided only by the Government grant. In the village is a large pond of clear water.
Post from Brandon, via Stoke Ferry, which is the nearest Money Order and Telegraph Office. Here is [a] Wall Letter Box, cleared at 5.15 p.m.
Directory:-
Rev. Smith Churchill, M.A. rector
Cornelius Green, Farmer
Richard Harwin, Farmer and Landowner
George Green Lambert, Beerhouse (The Bell)
Elizabeth Murray, Old Rectory
Reuben Orford, Farmer
James Savage, Bootmaker
Charles Smith, Beerhouse (The White Horse)
Sarah Ann Walkom, School Mistress
Thomas Wilson, Farm Bailff to Mr. Richard Harwin
Stoke Ferry is the nearest Railway Station.
The 2001 Census gives the size of Boughton as 548 hectares with a population of 213 persons (100 male and 113 female) distributed across 90 households.
For a detailed history and more pictures of All Saints' Church - click here
To see more information regarding the courageous heroes who gave their lives for King and Country,
click here
Boughton War Memorial Dedication
To see more information regarding the dedication of the War Memorial,
click here
Boughton All Saints' Burial Plan
In the early 1980's the Women's Institute conducted a burial survey of the layout of Boughton All Saints' Churchyard.
Click Here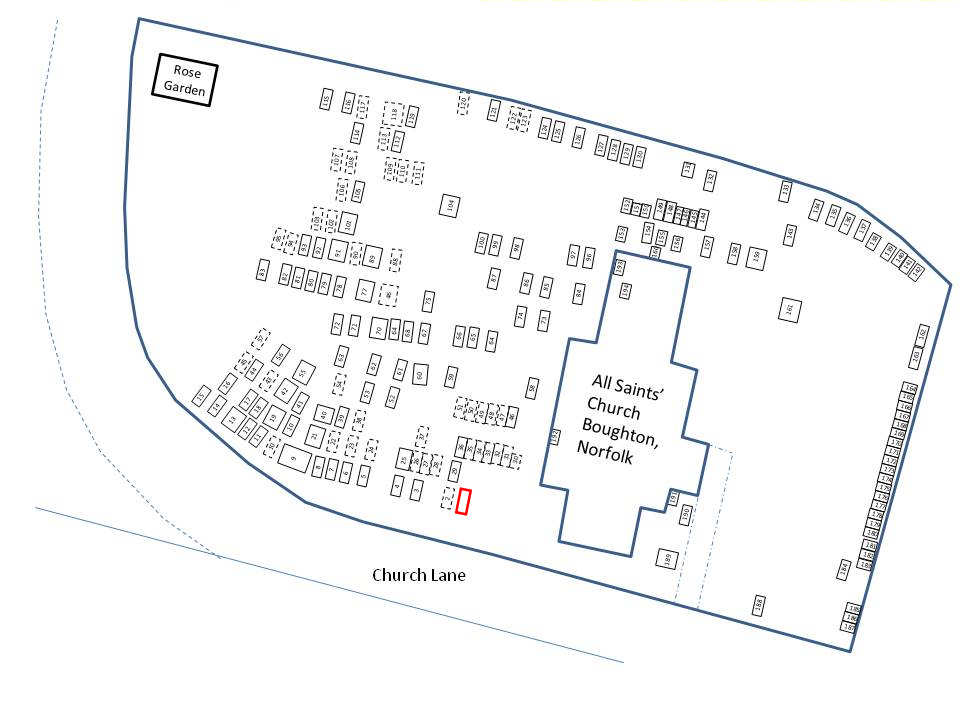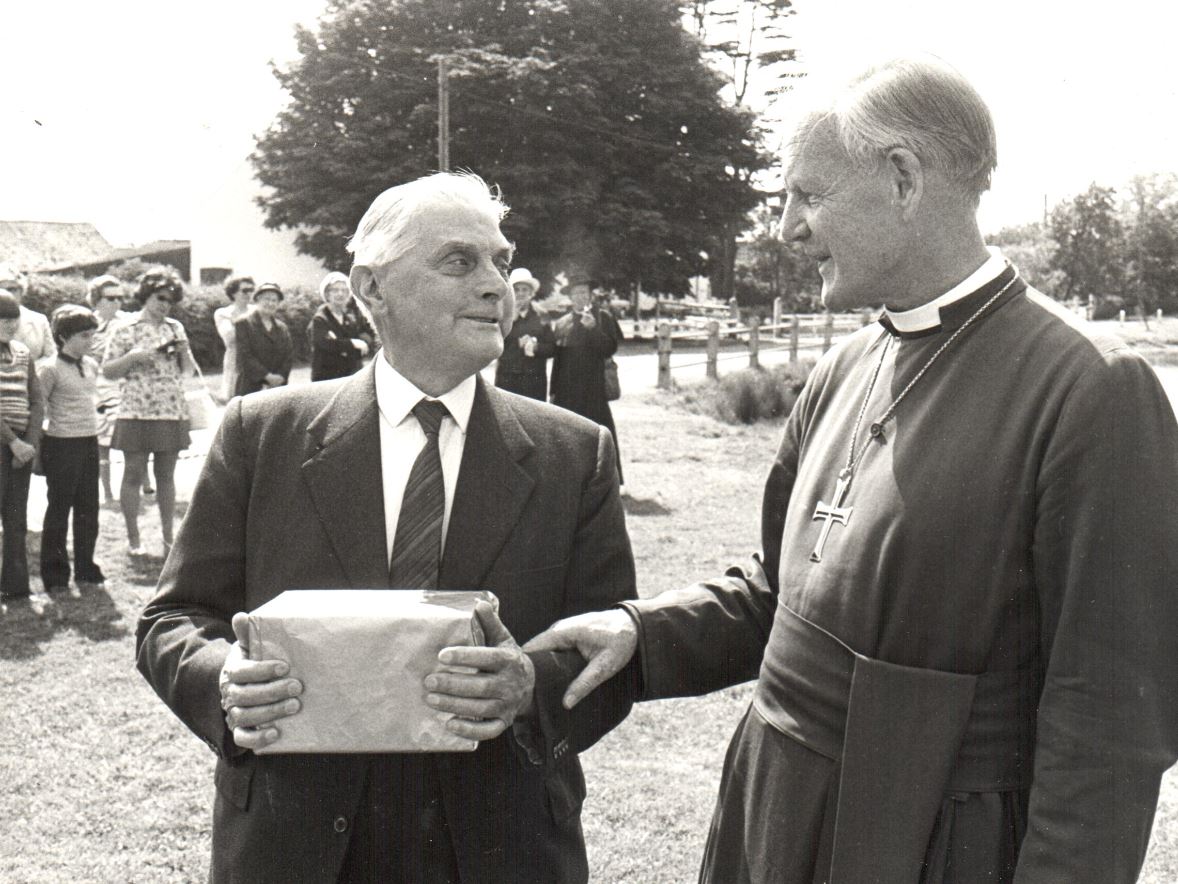 R.G.Robinson - 11th June 1973
Presentation of memorial clock to Mr R.G.Robinson on his retirement as Churchwarden for over 50 years and made Churchwarden Emeritus by the Rt. Rev. Edward Roberts D.D. - Bishop of Ely [on 13th hundred year celebrations of Ely Cathedral] on Boughton Village Green 11th June 1973.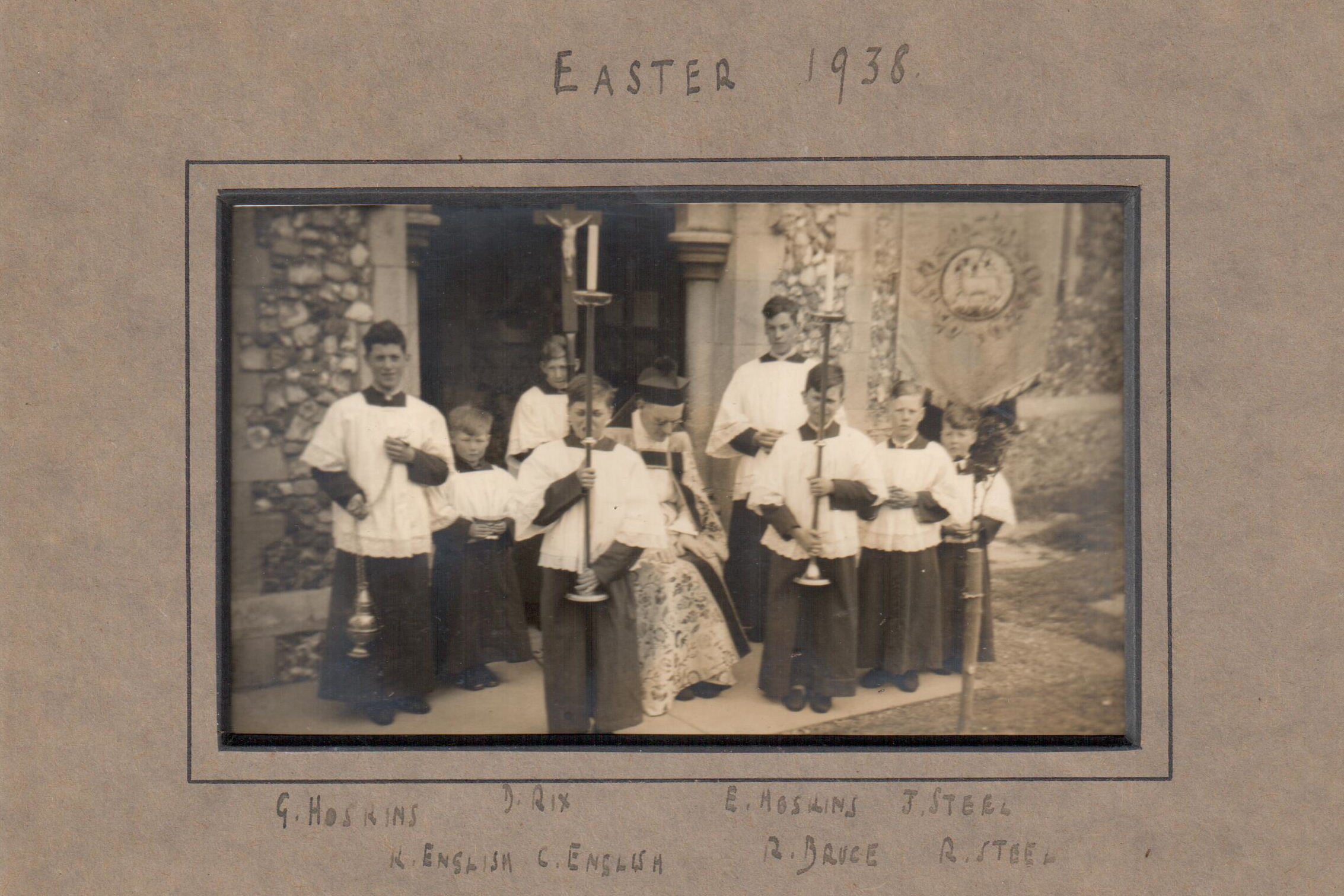 All Saints' Choir - Easter 1938
Persons shown, left to right "G. Hoskins, R. English, D. Rix, C. English, E. Hoskins, R. Bruce, J. Steel, R. Steel
Farmhouses
From early times Boughton consisted of two Manors, Overhall and Netherhall. The two manors already existed in the 10th and 11th centuries and there would certainly have been two manor houses or home farms. However, no trace of the original survive but it is ,perhaps possible, to guess at their original position. As older manor houses became ruined or dilipidated it was usual to rebuild the new buildings on the existing site and this would happen several times over the centuries. It is therefore likely that the manor of Overhall is, today, represented by the buildings of Hall House and Hall Farm, which were originally one property, to the south-west of the pond and the manor of Netherhall represented by Manor Farm House and the farm buildings of Church Farm to the north-east. It is significant that both of these buildings and their farmlands were owned by the Lord of the Manor, until 1919. The photographs below are reproduced by kind permission of the current owners of Manor Farm House, Barrie Carson Turner and Mark Solomon, and are extracted from the Property Deeds dated 1919.

Manor Farm House and Church Farm c1919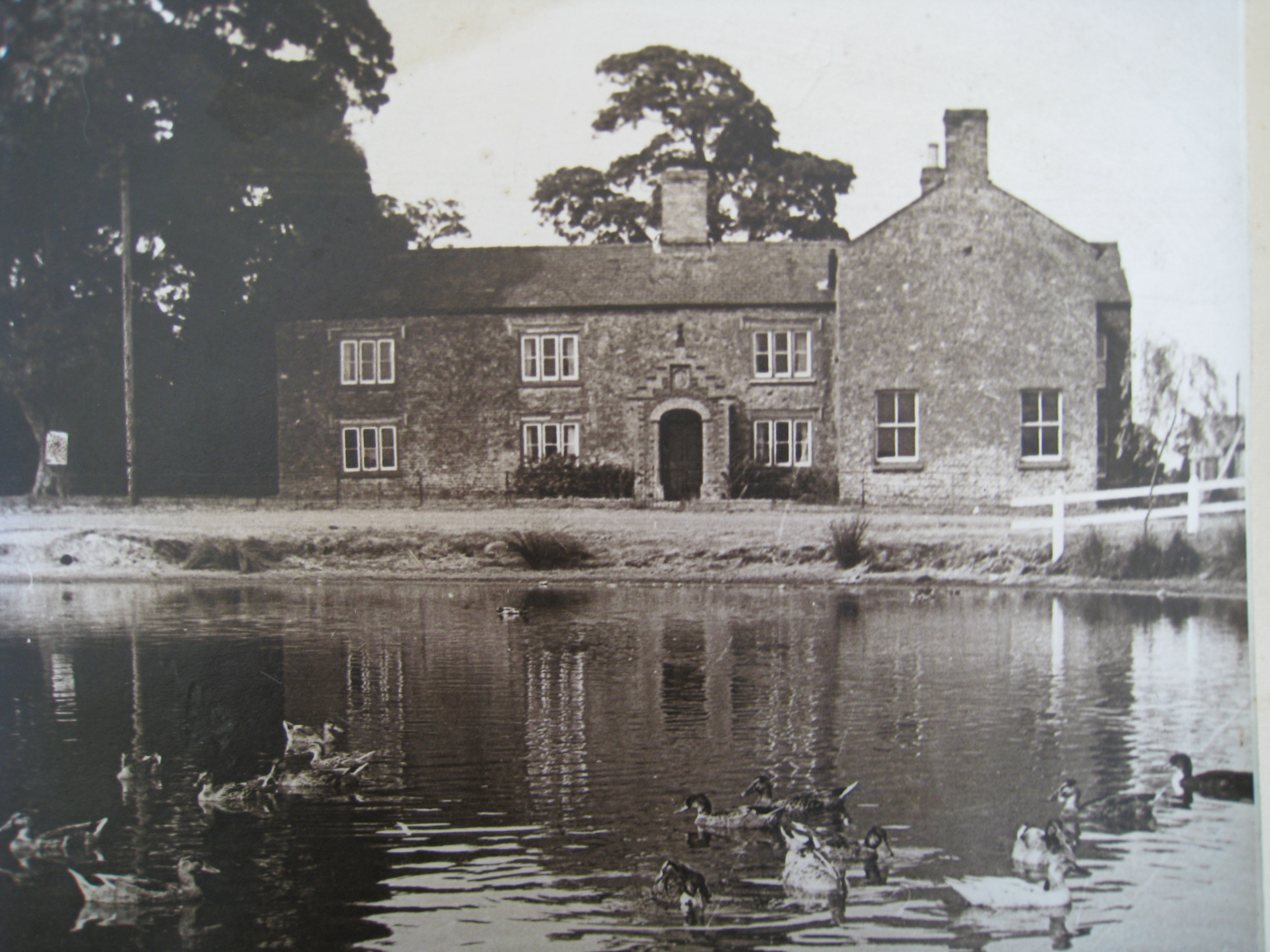 Manor Farm House [date unknown]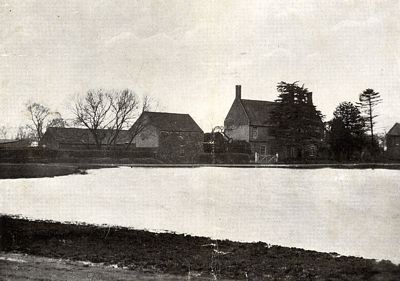 Hall Farm c1919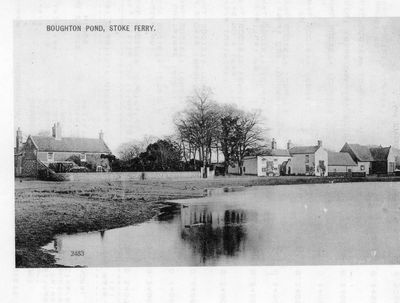 Boughton Pond c1910, also showing the Old Rectory, Manor Farm House and Church Farm
Village Inns
Boughton no longer has a Village Inn but at one time was fortunate enough to have two. They were 'The Bell', located on the Stoke Road, situated opposite the property known as 'The Hawthorns' and 'The White Horse' at the north-west corner of the village green facing the pond, this property is now residential and is known as Winward House.
The Bell
The Bell was a long two-storey building with the frontage facing towards Stoke Ferry and was the older of the two Village Inns. Trading ceased on 16th February 1965 and the building was demolished in 1973.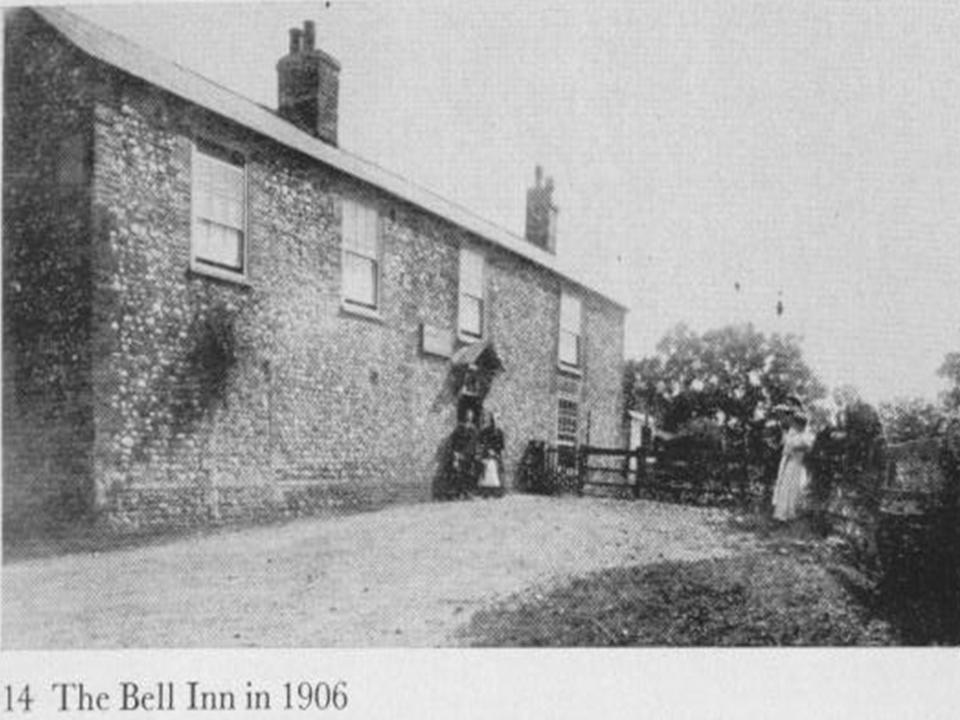 The Bell Inn Public House 1906 and 1950

Licensees of The Bell include:
Samuel Smith (age 73 in 1851) 1836 to 1851
Henry Trundle 1854
James Jessup 1856
Henry Trundle 1861 to 1871
George Green Lambert 1872 to 1891
Jeremiah Lambert 1904 to 1923
Eva Lilian Sharpe 13th October 1924 to ?
Arthur W Ladell 26th September 1932 to Closure (1965)
Closure of The Bell was first agreed at a joint committee meeting of Bullards and Steward & Patteson on 29th May 1962. Sales were given as 39 barrels of beer. The tenant (Arthur Ladell) was said to be 65 years old and to have been a tenant for 30 years. Notice was given to the tenant as reported at the Rationalisation Committee Meeting held 22nd July 1964.
Gail Lambert contacted me in 2011 with the following picture and information.
I recently came across your website and I have been tracing my husbands family history. You have on your web page a picture of the Bell Inn, 1906. Jeremiah Lambert was the publican there from 1904 to 1923. Jeremiah was my husbands gg grandfather, I have sent you a picture of 4 generations of Lamberts, and Jeremiah is the one seated. I hope you find this of some interest. The man to the left is George Lambert and to the right his son George Lambert and the young boy is my father-in-law. Kenneth Lambert. The picture is taken outside the Bell Inn and I think is around 1930.
Gail, many thanks for sending the picture it is extremely appreciated.

Four Generations of the Lambert Family outside The Bell Inn Public House circa 1930
The White Horse

The White Horse Public House
The gentleman in the photograph is Charlie Rix, a bachelor and regular imbiber at the pub!

The White Horse Public House 1961
This photograph is clearly taken later than the one above. Points to note are the changed door position to that which the residential property, Winward, now has and the overhead electricity cables.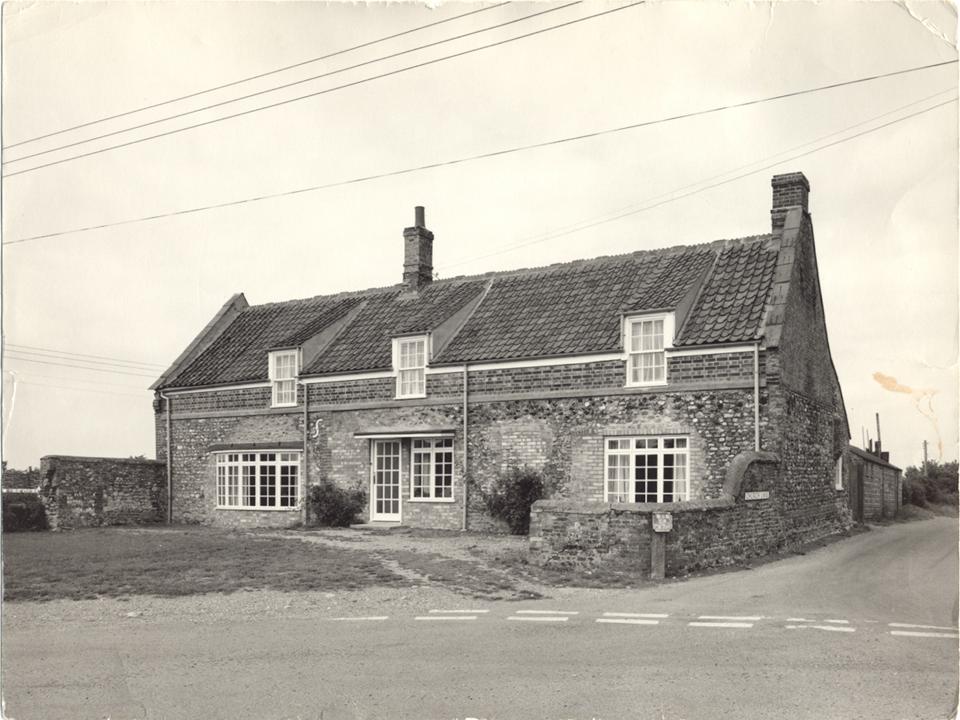 Winward House 1972
Following closure of the White Horse, Ted and Winnie Smith, the last licensees, continued to live in the property and in 1972 it was renamed to Winward (a contraction of Winnie and Edward) House , altered and modernised by them. They continued to live there until 1979 when it was purchased by Frank and Sandy Reid who still live there today. Frank Reid is the current Chairman of the Parish Council (2010)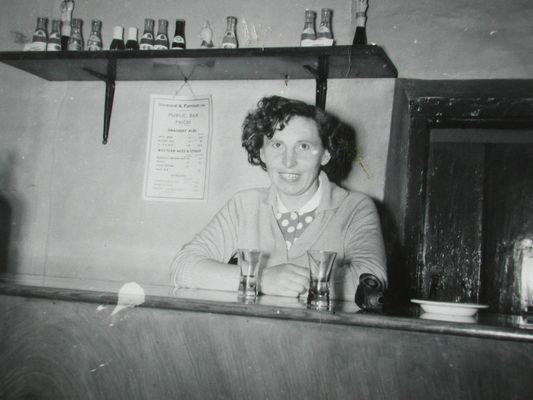 Winnie Smith - Landlady of The White Horse Public House c1955
Images reproduced by kind permission of Bryan and Pauline Bradley.
The White Horse is known to have been under the control of three brewers, Albert Loombe Carpenter of King's Lynn, Bagges of King's Lynn and was purchased by Steward and Patteson in 1929. Trading ceased on 30th January 1967.
Licensees of The White Horse include:
Charles Smith 1861 to *1891
Frank Sherwood by 1917
Horace Sherwood 8th October 1945 to ?
? Scholes ? to 1954
T.E. Smith 1955 to Closure (1967)
36 and 5/8 barrels of beer were sold in final year of trading and the reason for closure was given as 'being uneconomic'.
The School
Built by Richard Harwin in 1888.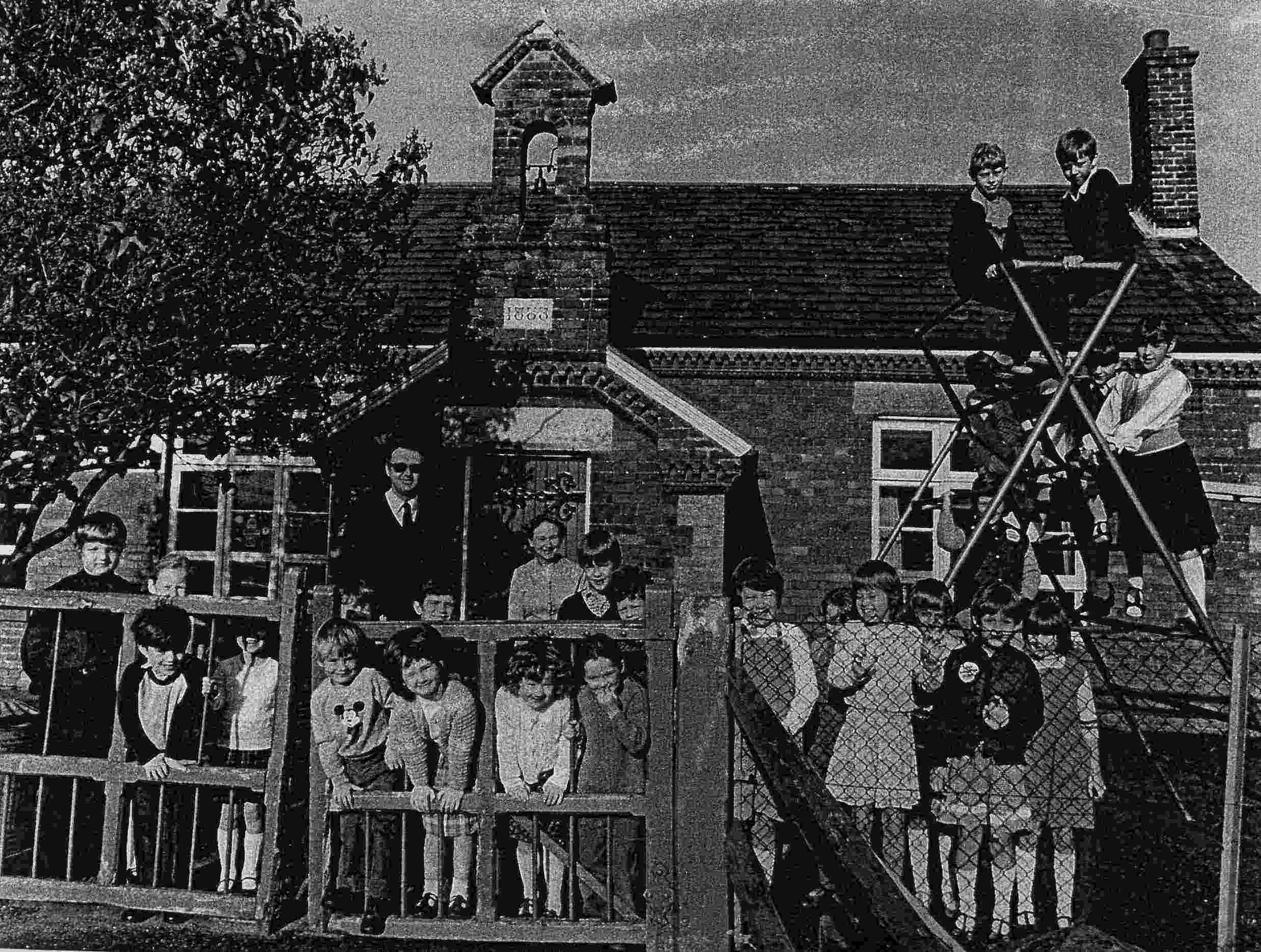 Boughton School 1984. Can anyone help putting names to faces? If you know any of the faces please contact Kevin at kevfisher@f2s.com

The School Timetable 1937

The School Timetable 1945
Click here to see higher resolution copies of the images above.

Sunday School Children Circa 1903

Sunday School Children Circa 1905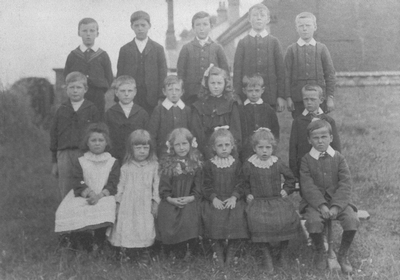 School Children Circa 1905
Click here to see higher resolution copies of the images above.
The Pond (or Pit) has been the centre of village life in Boughton for many years. Initially used for grazing cattle and a source of water, it is now THE beauty spot of the village and is often photographed. A selection are shown below.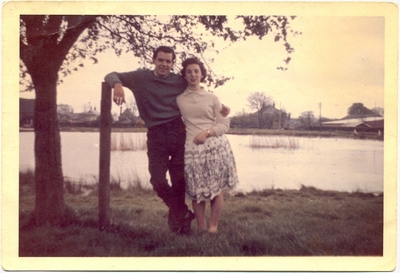 Win Smith's Daughter and Son-in-Law at Boughton Pond 1959

Unveiling of the new Village Sign by the Bishop of Ely circa 1972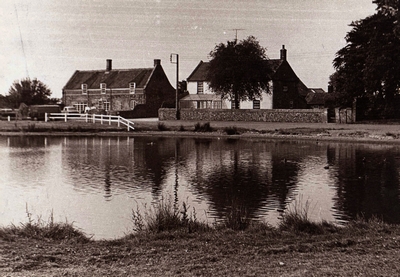 Boughton Pond Pre-1974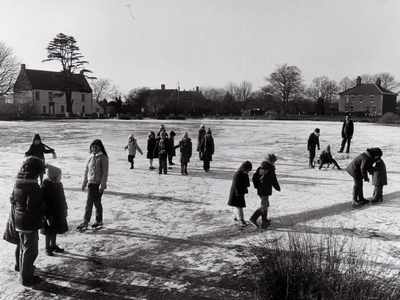 Ice Skating on Boughton Pond 1981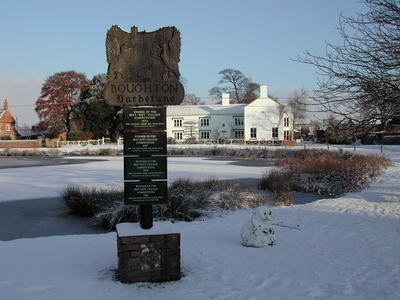 Boughton Pond Xmas 2005
Boughton Fen is located at the eastern end of Oxborough Road (old Fen Road) and covers around 40 acres to the south of the 'T' junction and straddles either side of the road that leads to Eastmoor to the north and Oxborough to the south. These parcels of land were assigned Poors' Lands under the Act of 1801. An extract of which reads:
Poors' Lands, Boughton, Norfolk
Three Commissioners were appointed under the Act passed in the year 1801 to enclose the common and waste lands of Boughton, and to divide and allot the same, estimated to be in extent 776 acres, 1 rood, 4 perches. On the 26th August, 1803, the Commissioners finished, and ordered their Deed of Award and plans to be placed for reference in the Chest of the Church of the Parish of Boughton.
"And we, the said Commissioners, do hereby assign , set out, and allot, as by the said Act directed, unto the Lord or Lords of the Manor Boughton, Overhall and Netherhall, for the time being, the Rector, the Churchwardens, and Overseers of the Poor of the said Parish of Boughton for the time being; and to the Proprietors within the aforesaid Parish of estates of the yearly value of £25; and to their respective successors for ever, in trust, as hereinafter mentioned, all that piece or parcel of land, containing by survey, 44 acres, 2 roods, 22 perches, part of the said common." Here the Boundaries are described in the Deed of the Award, and are those of the parcel of land now known as "Boughton Fen." Which said piece or parcel of land is the same piece mentioned and described in the Act, and directed to be allotted by us, in Trust, for the purpose of providing and supplying to the occupiers of each of the Commonable Messuages or Tenements now standing in the said Parish of Boughton, for the time being, and to the occupiers of each of the three following Cottages in Boughton, one belonging to Loom Brook in the occupation of Edward Whittrick and two belonging to , or in the occupation of, George Lewis and William Fincham, a quantity not exceeding nor not less than 4000 turves or flags, of the usual dimensions, for fixing in every year, and for the tenants and occupiers of all the commonable mesuages now standing in the Parish of Boughton, to use and enjoy right of common pasture over the said allotment, with such kind and number of stock as is hereinafter mentioned. For each of the commonable messuages, that is to say, 2 cows or 3 head of young stock under 3 years old, or 1 cow with 2 calves under 1 year old, or 2 geldings or 2 mares, with or without foals not exceeding 8 months old. And we, the said Commissioner, direct that the said allottment may be stocked and fed from 12th May until 11th October in every year and that from 14th February until 12th May in every year, the allotment shall not be stocked or fed with any kind of beasts or cattle whatsover.
"And we, the said Commissioners, certify that the said new fences enclosing the parcel of land in trust, directed by us to be made, with ditches 4feet 6inches wide at the top and of the depth of feet, perpendicular, with a sufficient number of gates, with oak posts and proper gate irons therein, have been made, and that white thorn layers have been set in the banks of the fences, and good thorns or other wood have been set on the summits of such banks. And we, the said Commissioners, have computed the costs and charges under the said act to be £1947 18s. 6d., to be paid by the several persons to whom allotments have been made, save and except the several persons particularly exempted on account of allotments made to them in trust as aforesaid from the payment of any of the said charges of the Act."
The Commissioner allotted to the Executors of John Woodward 23 peices of land. The first piece is thus described in the Award: "That is to say first one piece of land, by measure 13 acres 2 roods, 18 perches" (this piece of land is part of the first field on the road from Boughton to Barton, owned by Oxborough Trustees, and now in the occupation of Mr. R. Harwin), "which piece of land is allotted to the said William Gonge and William Taylor as Trustees of the said John Woodward and as Lords of the Manor of Boughton, Overhall and Netherhall, as and for full compensation and recompense for their right to the soil of the common and waste lands by the said Act directed to be divide and allotted."
Click here to see a copy of the original Award and Map of 1803.
Boughton Fen Chapel
There once stood a chapel on the Fen. About 1907, a Miss E.A.Pratt (housekeeper and niece of Richard Harwin) financed the building of a small chapel for the residents of Boughton Fen. Unfortunately it no longer stands. If anyone has any further information I would be delighted to hear from you.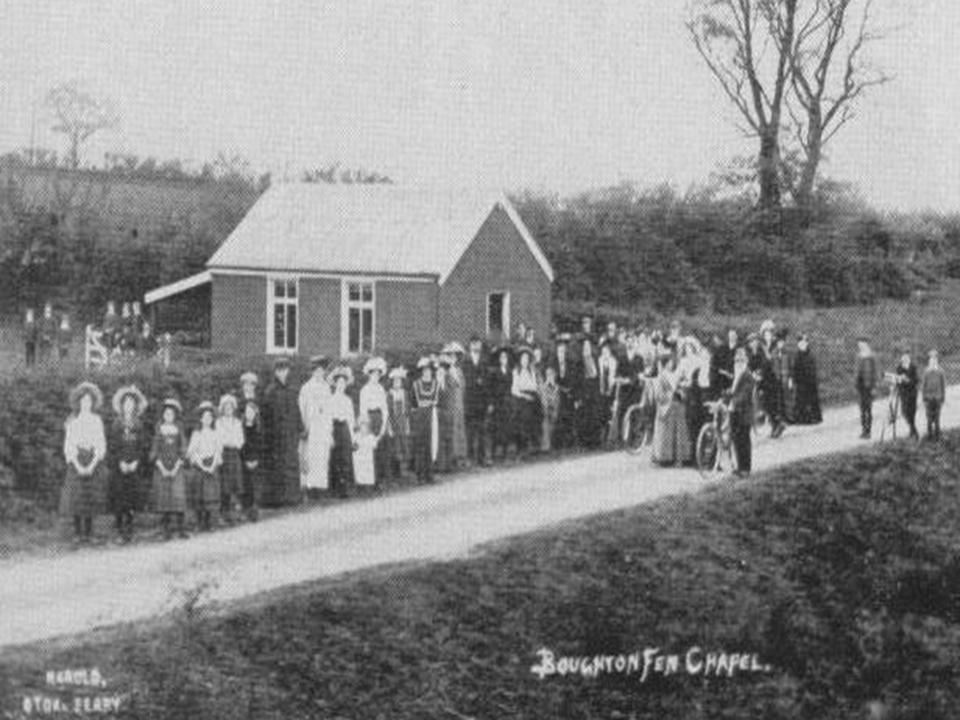 Boughton Fen Chapel

A flooded Boughton Fen looking towards White Bridge on the Oxborough Road
Boughton War Heroes
To see more information regarding the courageous heroes who gave their lives for King and Country, click here
Probably the most important person in Boughton's recent history is the benefactor Richard Harwin.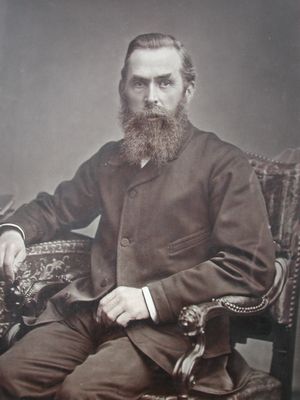 An extract from 'The Journal', Friday, October 18th 1963
Richard Harwin: Fatherly Farmer - Generosity and unusual ways.
By virtue of his kindness to the peasantry, he became known as the Father of Boughton. This extract from a Press report about his life, following his tragic death on October 11th, 1912, was a fitting eulogy of Mr. Richard Harwin.
He had spent his early years abroad and amassed much wealth in Natal, where he had interests in a large general store. Returning to England about 1870, he purchased a small estate at Boughton and in a nearby Parish, six miles from Downham Market, in Norfolk. Moving to Boughton a year after Mr. Harwin's death, I heard much about his farming operations, generosity and - sometimes - his odd ways.
The chief items of the farm stock sale , held on October 1st, 1913 were: 28 horses, 141 head of neat stock, 605 sheep, 300 barn doors fowls, and an excellent assortment of agricultural implements for a farm of 850 acres.
Fat and store cattle and a ewe flock were the main features of the stock side of the farm. Two lots of bullocks were usually fattened in the same yards each winter. Chains with hooks at the end of the bins made it possible to raise them as the need arose. Plenty of linseed cake was used to fat the cattle, which made more per live cwt. at King's Lynn cattle market than any other sender.
Unlucky Sheep
The shepherd had a permanent hut near a dutch barn on one of the farm premises for use at lambing time. Once they were dipping sheep on a very hot day, and during the dinner some of the sheep got out and drank the poisonous dip. When the men came back from dinner several sheep were dead, some more were dying. Mr Harwin was told and those responsible for the loss had to bury the dead sheep after leaving-off time.
Although over twenty horse were kept for farm work, some of the land was often ploughed or cultivated by steam power. Sometimes, the engine stood in another field, and anchors and windlasses (eleven were sold at the auction) were used for this work. "What a muddle it was, ploughing after the steam cultivator", an old ploughman said. The loose, heavy land would not scour the mouldboard. Occassionally, some of the land (especially if wet, after sheep folding) was ploughed with three horses in length in the furrow. The first self-binder ever worked at Boughton was on Mr. Harwin's farm, and wire was used to tie the sheaves.
It was said that Mr Harwin would drive round the farm in an old pony and trap, as if he were "not worth sixpence" also, that he had been known to see a toad hopping the road, pick it up and put it in his pocket, to be taken home to eat the slugs in the garden.
Christmas Cheer
At Christmas, for presents, the men would receive two shirts and the wives some blankets. Though not superintendent, Mr. Harwin would go into the Sunday School every Sunday morning and give an address to the scholars.
Mrs. Harwin died in April, 1890, and on the anniversary of her death each year a memorial service was held in the Chapel. Mr. Harwin built a new Methodist manse at Stoke Ferry in her memory, and there were few trust properties in the old Downham Market Wesleyan Methodist Circuit that did not benefit by his generosity.
From a structural point of view he left his mark on the village of Boughton. He built several pairs of new cottages, the chapel and Sunday School; the latter dated 1872, was also used as a day school, until he built a new one near the village green in 1888. All these were private property until he died.
His Last Ride
On one occassion, Mr. Harwin thought a local preacher had not taken a proper subject to preach from, so he stopped him. The first time that preacher came to the chapel after Mr. Harwin's death, he nearly broke down during the service.
It was said that as Mr. Harwin grew old, he prayed that at the end of his life he would be no trouble to anyone. On October 11th, 1912, his men were muck carting down the farm lane, where during the afternoon he had a ?. Stopping one of his boys leading an empty muck cart he told him he wanted to get in to ride home. He could not sit down, so he stood up in the cart. Presently, one of his men saw Mr. Harwin fall out head foremost on to the hard road. At first he was unconscious, then he rallied a little as they got him home, but he died a few hours later. The funeral procession from the Methodist Chapel was led by forty schoolchildren with their two teachers, followed by forty employees.
In Mr. Harwin's will (£70,000 net value), there were many charitable bequests. Every employee on the farm was the recipient of a legacy. The foreman and a few others received more but the engine drivers, blacksmith, carpenter, teamen and yardmen got £100 each. Other adult farm workers received £50, young men £25 and young lads £10. Some former maids got £100, and £50 was paid to those in service at his death.
An epitaph to Mr. Harwin is inscribed on a tombstone in the churchyard, and includes the following passage of scripture: "This poor man cried and the Lord heard him and saved him" Psalm 34: 6.
Author - Harold Hall
Click here to see a copy of the original article.

Richard and Sarah Harwin
Images reproduced by kind permission of Bryan and Pauline Bradley.
Boughton Air Crash 1939
On November 5th 1939, at the start of the Second World War, a Wellington aircraft crashed into, what is now, a corn field in Field Barn Farm. Remnants from the crash were unearthed in 1990 and reported in the EDP on 30th April 1990. Boughon's very own Ralph Proctor is on the left, standing next to Tam Payne. Ralph witnessed the accident when, at the age of 18, he was sitting nearby on his bicyle, he watched the Wellington make several low passes before it struck the top of an oak tree and crashed nose first and burst into flames. On board were LAC David George, whose only son David is also in the picture (second from right). The pilot and five other members of the ground crew also perished, including AC1 John Bailey from Beccles, AC2 William Dye from Lowestoft and the pilot Sgt. Eddie 'Slim' Summers, one of the most experienced in the squadron. The Wellington was on its' way to the satellite airfield at Barton Bendish where aircraft were taken when stood-down from operations, in case they should be bombed on the ground at Marham.

Site of Boughton Air Crash 1939
In the Second World War Boughton had an active homeguard, the picture below shows them on duties, believed to be at Stradsett. Paul Rix kindly provided the following information: My Dad, Tim Rix is third from right, probably talking to Wilfred Rix. 'Hub' Rix (my Uncle) is nearest the camera on the left next to Mr Bruce (Senior), the Platoon Commander. Dad was the nominated grenade man. He even made a launcher to fit a 12 bore gun. I still have a totally disarmed grenade with his home made modification to fire it! Any further information gratefully accepted.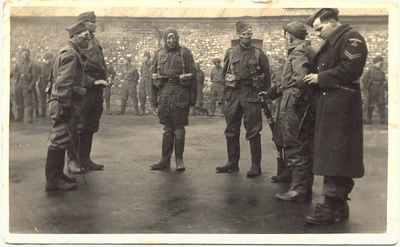 Boughton Homeguard believed to be at Stradsett
Doris Clarke - A Life 1924 to 2008
We are indebted to Richard Clarke, brother of Doris, who gave his personal time, records and photographs of Doris's and his life in Boughton. In addition Richard spent some time walking around the village in May 2009 talking to and reminiscing with David 'Golly' Cooper about their childhood memories. This has been recorded to DVD for posterity.
Doris Clarke was born on 6th October 1924 to parents Sydney and Annie (nee Rix). Sydney was a 'husbandman' (a farm labourer). Together with Annie's daughter Greta Rix they initially lived in a 'two up two down' cottage at the west end of Boughton possibly where Tom & Wendy Roberts now live, and now named Horsemans. The extended family included Doris's father's parents, and both Doris & Greta recalled Granddad Clarke, possibly the 'character' of the family.
Both Doris and Greta attended Boughton School, Greta leaving at 15, without then attending secondary school as was common in the late 1920's early 1930's. Doris subsequently attended Downham Grammar School after leaving Boughton School in 1935. Travelling to school was a lot harder then, first cycling to Stoke Ferry and then to catch a bus to Downham. No comfortable parent's cars to run them to school!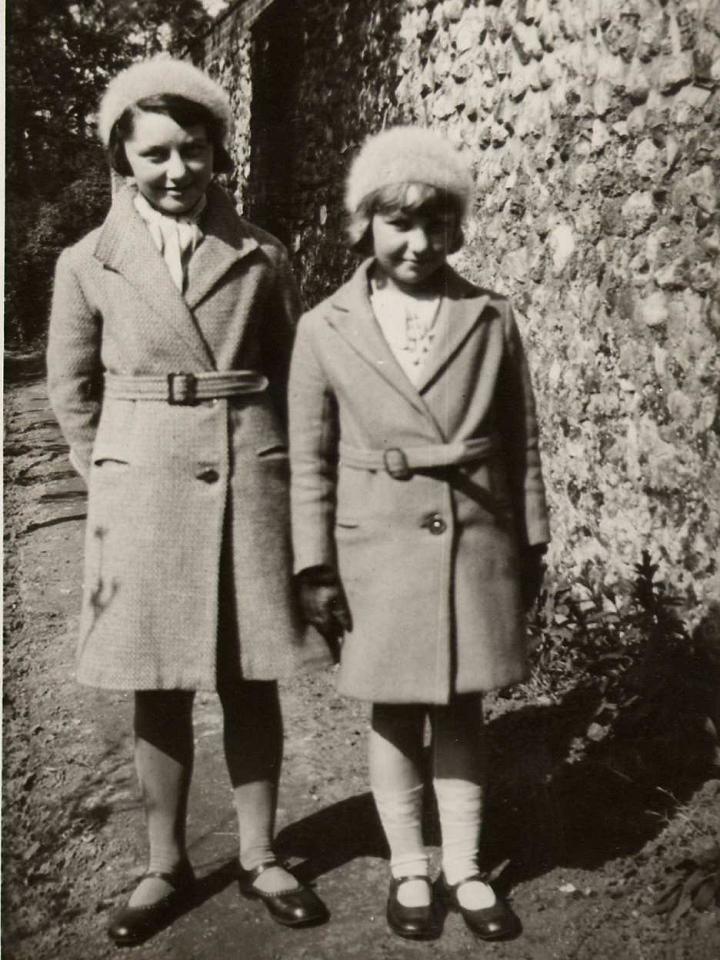 Greta & Doris as young girls circa 1930's
School reports, in Richard's possession, record Doris initially did well at Downham School coming second out of a class of 35 in her first year. Illness during later school years caused Doris to struggle, and a comment in her final report recorded that Doris 'does not show much interest in games and sports'. Doris subsequently cycled thousands of miles as the village post-mistress!
Although records are not definite, it appears Doris took to working in Boughton Post Office upon, or soon after leaving school, in the early Forties. Her father S W Clarke was recorded as sub-postmaster at the time, notwithstanding him being remembered by Richard as a farm labourer.
One of the items recorded as being received by the sub-postmaster were '10 brass weights and spring balance'. Richard recalls Doris taking these upstairs each night to put under her bed for safekeeping.

Boughton Post Office, now 'The Old Post Office', and the sign displayed above the front window
At the outset of War in 1939, Doris received a British Red Cross Society certificate in 'Home Nursing' and after the War she was awarded a certificate for her voluntary work at the 'Services Canteen' in Stoke Ferry. The Methodist Church ran this and Doris was a keen churchgoer throughout her life. Richard recalls during his younger life attending the Wesleyan Chapel, which stands next to the Old Post Office, where Doris played the organ. The family always sat in the same pew, third from the front.
Life at the Post Office from the late 1940's for Doris was getting up at 4.30a.m. cycling to Wereham to collect the post (delivered from Kings Lynn). Until sometime during the 1970's she also went off at 4.30pm to collect and deliver the second delivery. Now that is a postal service! Opening hours, by today's standards, were strange, 8.15 – 8.30, 9.00-1.00 and 3.30-6.00.
Holidays did not play a big part in Doris's life, although she did attend some group 'Fellowship' holidays as a young woman. An infrequent caravan holiday in Hunstanton also. Occasionally Doris would catch the once-a-week bus, at 2pm on Saturday, to Kings Lynn, and latterly to Downham, perhaps to buy clothes, which Richard recalls were always nice.
Doris's mother passed away in 1977, and although retired Doris's father occasionally helped with the deliveries, though Doris ran the household. She eventually retired in 1984, which gave her more time for caring duties. A cruel twist of fate was that she was diagnosed with rheumatoid arthritis soon after her father's death, which caused her much suffering. Tragically it was whilst Doris was in hospital in 2008 that she decided she could not return to the house and then suffered a stroke that proved fatal. Richard recalls that throughout her life Doris was a committed Methodist and helped with Lay Preachers and floral arrangements on the Circuit. Also that she was helped by people in a village that had changed completely from a mixed farming community to a dormitory village. One such individual was 'Horry' Stannard who was helpful across many years.
Doris told Richard, shortly before her death, that she had led 'a quiet life' and her ashes are interred in All Saints Churchyard, with her parents. A commemorative bench is to be placed around Boughton pond, a fitting memorial to a steadfast resident of Boughton throughout her lifetime.
Abridged from 'Doris Clarke, a Life' by Richard Clarke. April 2009. My thanks once again to Richard Clarke for sharing Doris's life with us.
Peter Agate
Audrey Helen Payne 1917 - 2010
Reflections on her life by her son Michael Payne
All Saints Church, Boughton - 28th May 2010
Audrey was born in 1917 during the First World War, the third of four children. She is survived by her younger sister, Mary who lives in Edinburgh, but who unfortunately cannot be here today.
Audrey's father was in killed in action in France two months before she was born, so she never knew him. Her mother remarried, this time to a vicar, and she spent most of her early childhood in the Rectory at Nidd in the North Yorkshire countryside, near Harrogate. In many ways Audrey's upbringing was rather cloistered, since she had a governess and did not attend school at first. But there are also tales of escapades she had with brother Norman and sisters Barbara and Mary, and they clearly enjoyed terrorizing their governesses (like with mice in unexpected places)! Later, the family moved to a parish on the outskirts of Leeds where she was to spend her teenage years. It was here – at the age of 10 ½ - that Audrey attended school for the first time. This was a big change for her, and not least because the school was large by the standards of the time, being 600 strong, and she found it all rather intimidating. But she was a fun-loving person and found she thrived in groups. She was a very active Girl Guide, and remained in contact with one particular friend from the Girl Guides, Audrey Scriven, for more than 60 years. Even as a Guide, she was organising events and outings with friends. They would catch a bus to take them into the Yorkshire Dales and would explore the Moors, which she always remembered as "fantastic".
The moors made a deep impression on her. The song of the curlew always thrilled her and reminded her of the Yorkshire hills and dales where she grew up. In later life she loved to go to the hills for holidays, in Scotland, Wales and the Lake District. After she was widowed, she would take holidays 'botanising' and walking with her sister Barbara, also widowed by then - in places such as the Scillies and Austria. Those holidays meant a lot to both of them.
The family was still in Leeds during the Munich crisis in 1938 and Audrey joined the ATS, the Auxiliary Territorial Service, attached to the RAF. By the outbreak of war, when she was 22, the family had moved to Edinburgh where her step-father had a new parish. She joined the WAAFs, the Women's Auxiliary Air Force. She was stationed first at Turnhouse aerodrome, outside Edinburgh, where she was secretary to the station commander. Whilst she was there, she received a commission and was also mentioned in despatches – something I only discovered in the last few days. During the rest of the war, she had a succession of postings, each one further south. First it was Dumfries, then Speke outside Liverpool, then Warwickshire and finally Yatesbury in Wiltshire where she met her future husband Robert, an RAF officer. She told the story of her drive down to her new posting in Speke in her little Austin 7. She wasn't sure where she was going, and there were no signposts – all removed in case of invasion, and certainly no Satnavs. There was thick fog, and in darkness during the blackout she was only allowed to use thin beams from her car lights. Apparently her colleagues at Dumfries radioed ahead to tell them to look out for a mad WAAF officer trying to find her way there. There were also stories of exciting afternoons out with fighter pilots who would take her up for a flight and loop-the-loop. Once she was flown over to Ireland to buy some tinned meat, which was rather hard to find in those days. On the way back the tins stuffed in the footwell upset the compass and they went way off course. But apart from the fun there were the long nights on the bases where it was her duty as Section Officer to check on the young women under her charge, moving around the different parts of the airfield alone with one small torch.
Life took on a new dimension when she met Robert, at Yatesbury towards the end of the war. Their relationship flourished and their courtship seems to have included searching the surrounding Wiltshire Downs for edible mushrooms and toadstools which were cooked for them in the officers' mess. The difficulty of differentiating edible from poisonous for novices with the guides then available caused much speculation as to whether they would live to see the next dawn! Audrey and Robert were married in 1946, six months after the end of war. Robert decided not to continue a career in electronics and radar development and to go into farming, which ultimately led them here to Boughton. Since neither of them were from farming families, they set about learning in earnest, working on farms, and getting up in the early morning to go milking to gain experience. Their first farm was a dairy farm at Wield in Hampshire. She made friends with a near neighbour, Jeanna Nicholson, and this was to be another longstanding friendship. However, Audrey and Robert decided they would prefer arable farming and moved to Boughton in 1952. Initially they lived at Hall Farm overlooking the pond in the village, but later moved to the house at Field Barn outside the village. One of their employees from Hampshire, Wilf Goodall, moved up with his wife Phyllis to be farm foreman. Wilf stayed with the farm until his retirement in 1983, as did Geoff Carter, who was already working on the farm under the previous owner when Robert and Audrey arrived. They regarded themselves as very fortunate to have such loyal people working for them and especially over the years of Robert's illness which led to his death in 1980.
Field Barn farm had been almost completely stripped of all its hedgerow trees when Robert and Audrey arrived, and they set about replacing these with quick growing poplars to make good some of the loss to the landscape. Audrey also set about transforming part of a very bleak field into a treasured garden, which gave her so much pleasure. When Robert died, Audrey moved to Field Barn Cottage, where she took great pleasure in creating yet another garden. Audrey's love of flowers led her to join a local flower arranging club, and she did flowers in the church for many years, and helped start the annual 'Open Gardens' event. She had a talent for flower arranging, and still very much enjoyed arranging the flowers taken to her by visitors to the end. She learnt much about the village and the people of Boughton through chats with Frank Savage, owner of the village shop, when he delivered the groceries. Boughton was a very different village in those days with a post office, a school, a shop, two pubs and a chapel as well as this church. Audrey gradually became more involved in village life and eventually became a churchwarden in the 1960s, which she continued for more than 35 years.
One of her favourite occasions was the bishop preaching from a boat on Boughton Pond. She was also Secretary of the Parochial Church Council for many years and helped organize village fetes, open gardens and church exhibitions to raise funds for the church. Audrey chaired the Parish Meeting – the forerunner of the Parish Council - and led Boughton to its first success as Best Kept Village in Norfolk, a tradition ably carried on today by her successors. She also served as County councillor for about 10 years, where she worked with Gillian Shephard who later became the local MP. Audrey became chairman of Norfolk Social Services Committee and later, a member of the Anglian Health Authority. She was also a long-standing member of the boards of governors at Methwold and Downham secondary schools. In later years when she had given up most other roles she still kept busy in the community and became secretary of Downham Blind Club.
The last two years of her life were spent at High Haven, a care home in Downham Market, where she was cared for by a wonderfully supportive staff.
My personal reflections
Audrey loved the countryside – a love that was born in her childhood in Yorkshire. She knew the plants, birds and animals, and passed on her love of the natural world to others, not least myself. She took it on herself to protect nature, ensuring that the woodland and hedges on the farm were kept when they were lost on so many others. Right until she had her fall in 2007 which preceded her going into High Haven, she would take her daily walk down the lane and take pleasure in the nature she saw around her. And after she became less mobile, she would enjoy being driven around the area and always noticed any changes.
Audrey throughout her life was always someone who got involved in whatever it was that came her way. She helped to organize and encourage others, and as often as not finished up taking a leading role – but only when asked to do so, rather than through putting herself forward. She was getting involved and organizing the others even through to her last weeks in the care home.
Audrey couldn't however have carried out the work she did in the community without knowing that she would have the strong support and friendship of the people of Boughton. The results of her efforts ultimately depended on the involvement of others. Audrey's approach of getting actively included the varied interests of her 4 children and she supported and encouraged us all. After Robert's death, Audrey also had 7 grandchildren, 2 step-grandchildren and 1 step-great grandchild who were dear to her. She'll be greatly missed by all the family.
Michael Payne
Boughton has a fine tradition in the Best Kept Village, Best Kept Village Green and Pride in Norfolk Awards having won various categories a number of times. The Best Kept Village and Village Green Awards were sponsored by the Norfolk County Council and were the forerunner to the Pride in Norfolk Awards sponsored by the Eastern Daily Press in conjunction with Norfolk County Council.
For those observant amongst you, you will have noticed that the village sign and notice board are home to a number of plaques that have been presented over the years. Recently, some village paperwork surfaced that allows me to put this into more detail.
Best Kept Village 1969 - Commended
Saxlingham Nethergate were the winners in the 'Population Under 400' category with Boughton highly commended. Boughton received an envelope containing vouchers for 4 standard trees from the Rt. Rev. The Lord Bishop of Thetford, kindly donated by Charles Townsend Ltd. Mrs Audrey Payne accepted the award, on behalf of Boughton, which was presented on 19th September 1969 at Saxlingham Nethergate.
Best Kept Village 1970 - Commended
Saxlingham Nethergate were the winners in the 'Population Under 400' category with Boughton highly commended. Boughton received an envelope containing tree vouchers from the Rt. Rev. The Lord Bishop of Norwich. Mrs Audrey Payne accepted the award, on behalf of Boughton, which was presented on 9th September 1970 at Saxlingham Nethergate.
Best Kept Village 1971 - Runner Up
Best Kept Village Green 1971 - Winner
Best Kept Village 1972 - Winner
This was the 7th year of the competition and the signs and plaques were generously donated by Eastern Counties Newspapers Limited. Mrs W.M.Simmons Chairman of the Committee presented a voucher for four trees to Mrs. Audrey Payne on 23rd August 1972 at Boughton.

Unveiling of the Best Kept Village Sign - 1972
The Eastern Daily Press reported on the unveiling of the sign on August 24th 1972.
"Boughon is beautiful. Whatever evils may be wrought on other parts, this delightful West Norfolk village remains unspoilt. The village green with it's large pond is perfect. Even the one new bungalow and relatively modern village shop mellow into the serene picture formed by the rest. The centrepiece is the pond, full of bullrushes and ducks.
Boughton is the winner of the 'Best Kept Village' in the class for those with a population of under 400.
Last night a village sign with plaque, presented by the "Eastern Daily Press", was unveiled by Mrs Winifred Simmons, chairman of the Best Kept Village Committee. The village also won the best village green prize - a voucher for trees. The Norfolk branch of the Council for the Protection of Rural England also makes an award for trees but as it had already given the village green some last year, its' chairman Mr David Mawson, presented a cheque for £10 instead.
The village had been commended by the judge Mr. J St. Bodfan Gruffyd, on the obvious enthusiasm from all concerned within the village. Many of them turned out for last night's ceremony and were joined by members of the 'Best Kept Village' committee, and of county and local councils.
Mr Brian Murphy, assistant county planning officer, said the judge had only one criticism - he felt the pond should have been cleaned out more thoroughly. But Mr Peter Roberts, editor of the 'Eastern Daily Press' disagreed. It should be left as it was, he said, since it provided food and shelter for the ducks. He was delighted that the award 'had come to the heart of Norfolk' and added that he was surprised that Boughton had not gained the premier award before. The 'EDP' was proud to be associated with a competition designed to preserve the best in a wonderful county.
Mrs A.H.Payne, chairman of the parish meeting, said the village was proud to have won after four attempts. Later, at a social gathering in the school, Mrs Payne cut the victory cake."

Best Kept Village 1972. Reported in The Lynn News and Advertiser - August 28th 1972
Best Kept Village Green 1972 - Winner
Mr. D. Mawson, Chairman of the Council for the Protection of Rural England, presented the prize to Mrs. Audrey Payne on 23rd August 1972 at Boughton.
Best Kept Village Green 1975 - Winner
Best Kept Village 1976 - Runner Up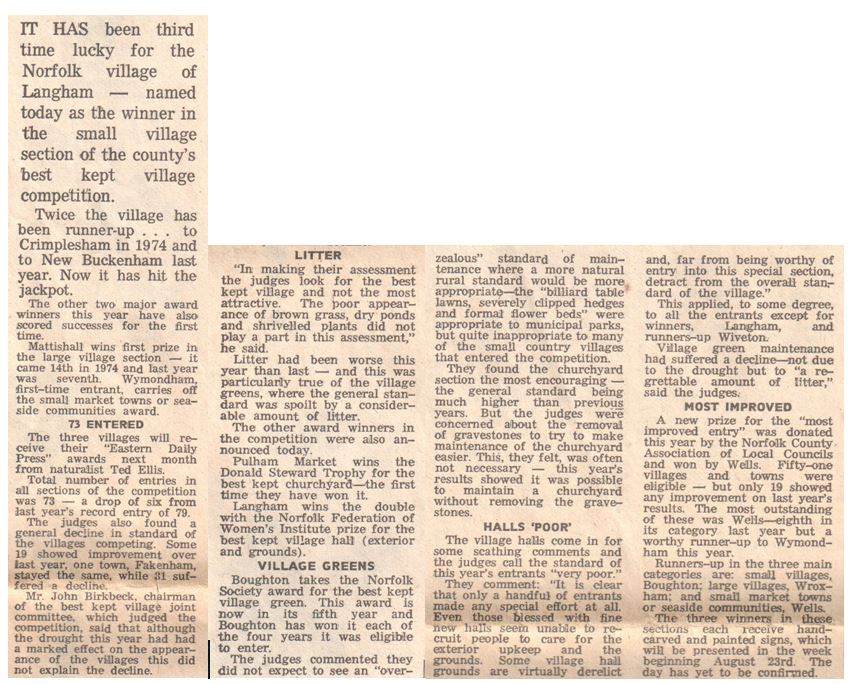 EDP July 23rd 1976
Langham were the winners in the 'Population Under 400' category with Boughton runner-up. The judges report stated 'The judges have come to expect a high standard from Boughton and they were not disappointed this year. Indeed, their only major adverse comment on one of the hottest days of the year were concerned with the absence of a pub in the village, though one of the residents came to the rescue, and the fact that the coach broke down and they had to give it a push!
There were no bad points in the village this year, and the fact that it came second to Langham reflects the excellence of the winner rather than any failing on the part of the runner up.
The churchyard at Boughton is very large and the village is to be complimented on keeping it so tidy. The rear fence of the churchyard is rather poor, however, and if it were to be replaced in due course, this would help the overall appearance of the churchyard.
The green is obviously very well used by local residents and their children. The effort put into its' upkeep must necessarily be that much greater than for a less well used green. The judges awarded the green very high marks and were partucularly pleased to see it being properly used as an amenity to the village.'
The presentation ceremony was on 24th August and prizes presented by Dr. Ted Ellis, the Norfolk naturalist.
Best Kept Village Green 1976 - Winner
Boughton had won the award two years running and were barred from entering this section in 1977. This was the fourth time they had won this award. They beat Langham and Pulham Market into second and third place respectively. The judges report stated 'The green at Boughton was in excellent shape in spite of the drought. It was well cared for and free from litter. The local people, especially the school children, obviously use the green to advantage and this was good to see. Another excellent performance' judges have come to expect a high standard from Boughton'.
A cheque for £10 was awarded to the village by 'The Norfolk Society', the Norfolk Branch of the Council for the Protection of Rural England, they "were delighted to hear that you may be planting Sea Buckthorn shrubs beside the Pond".
Best Kept Village 1977 - Winner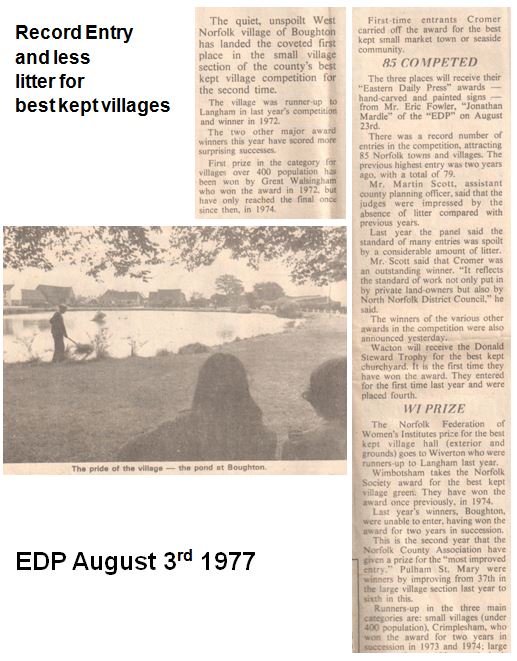 Boughton were the winners in the 'Population Under 400' category with Crimplesham and Wiveton, second and third respectively. The judges report stated 'Generally extremely tidy and setting a standard which the other villages in the section found difficult to match. The high spot of the village, as usual, is the green which obviously receives a great deal of care and attention. The community spirit that this represents is much applauded, being the very essence of the competition.
The churchyard has shown a very real, if gradual, improvement over the years. Although it has a long way to go before being able to compete with the special section entries, it no longer lets the rest of the village down. Further improvement would make Boughton a more difficult entrant to beat in future years. Attention to the boundary hedge and, in particular, the seemingly redundant wooden lean-to on the north side of the church would help the overall appearance of the churchyard.
Elsewhere in the village there is little to criticise. There is one dead weeping willow by the pond which requires replacement and the land on the edge of the green near Manor Farm is somewhat untidy.
The 1977 plaque, donated by the Eastern Daily Press, was presented by Mr. Eric Fowler ("Jonathon Mardle" of the Eastern Daily Press) and recieved by Mr. Armsby, on behalf of Boughton on 23rd August.
Best Kept Village 1984 - Winner
Boughton were the winners in the 'Population Under 500' category.
Best Kept Village Green 1984 - Winner
The preesentation ceremony was held on Tuesday 21st August with the two prizes presented by Sir Paul Hawkins, T.D. M.P. to Captain Edwin Rix.
Best Kept Village 1985 - Third
Judges comments included Green - Very good, pond very clean and attractive, grass well cut, good trees. Very tidy. The standard has not deteriorated, obviously tended with loving care. A credit to the voluntary workers; Recreation Ground - Childrens play area equipment in good condition. Railings freshly painted, grass neat, no litter; Village Centre - Public areas outstandlingly well kept, most gardens could have been a little tidier, buildings well maintained; Commercial Premises - Chapel building good, some weeds in ground; War Memorial and Fixed Equipment - Nice rustic notice board; Tidiness - Generally excellent, kiosk very good; Council Property - Verges excellent, school good."
Best Kept Village 1986 - Winner
Boughton were the winners in the 'Population Under 500' category with Castle Rising second. Judges comments included 'Churchyard - Generally tidy but higher marks could have been awarded but for weeds in the footings and around the tombstones; Green - Well up to the high standard previously established for this feature. Childrens play area good; Village Centre - The houses and buildings around the green most attractive and well up to the standard of the area; Outlying Estates - Very good small group of houses near the church. In a few instances there were weeds at the foot of the walls; Commercial Premises - Farms very tidy. Chapel areas wants weeding. Chapel gates and notice board very good; War Memorial and Fixed Equipment - Rustic notice board an attractive feature. Village sign in good order. Memorial in churchyard lacking attention; Tidiness - Generally extremely tidy. Only litter found was in phone kiosk; Council Property - Schools tidy. Verges in good shape.
The 1986 plaque, donated by the Eastern Daily Press, and a voucher for plants, donated by Holkham Gardens, were presented by Lady Ralphs and received by Mrs A.Proctor on 2nd September 1986 at Boughton.
Best Kept Village Green 1986 - Runner Up
This years winner was Castle Rising with Boughton runner up. A voucher for trees or shrubs, donated by Barcham Farm Trees, was presented by Lady Ralphs and received by Mr Andy Beeston on 2nd September 1986 at Boughton.
Farming has played a major part in community life in Boughton. Many family names have farmed here over the years, not least those of Steward, Harwin, Marks, Miller, Proctor, Payne and Robinson.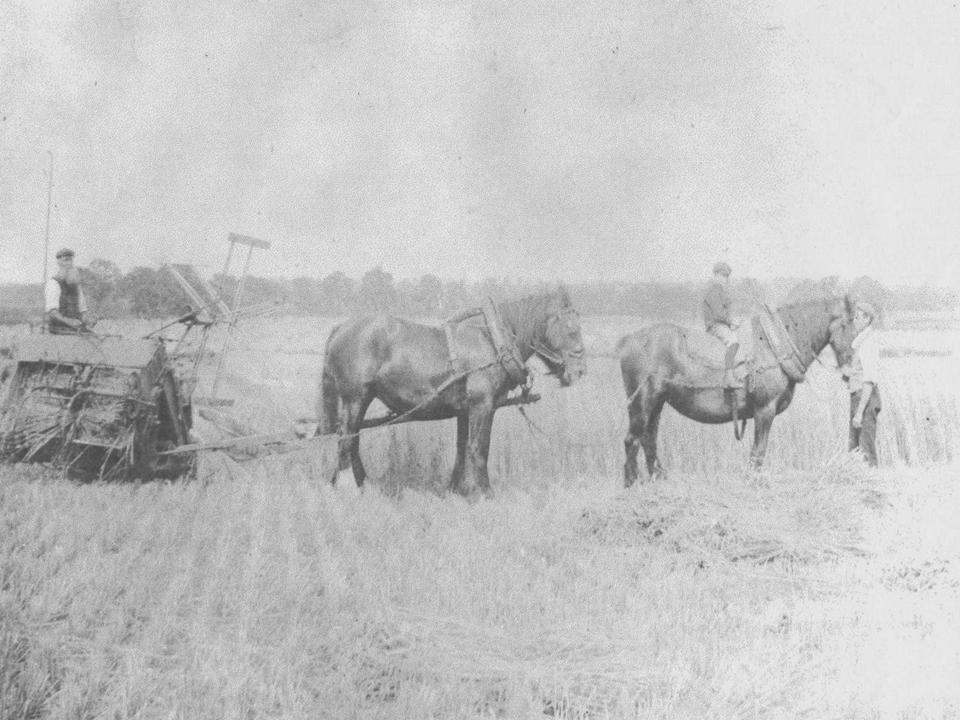 'Binding' at Boughton - The Gentleman on the Binder is Mr William Rix, supported by his brother Mr Walter Rix. Mr Tim Rix is on the front horse. It is belived that the location is Spicer's Field, 'Top Common', the trees in the background are 'Double Bank', confirmed by the field being so flat. The photograph is believed to have been taken by Mr Stevenson (Chemist) of Stoke Ferry for R.G.Robinson soon after buying Poplar Farm. Date Unknown. Information kindly provided by Mr Paul Rix son of Tim and Grandson of William.
VE Day Celebrations August 21st 2005
2005 marked 60 years since the declaration of peace at the end of the Second World War and using Lottery Funding Boughton organised their own street party.
Click here to see more information on the VE Day 60 year celebrations.

Lynn News August 30th 2005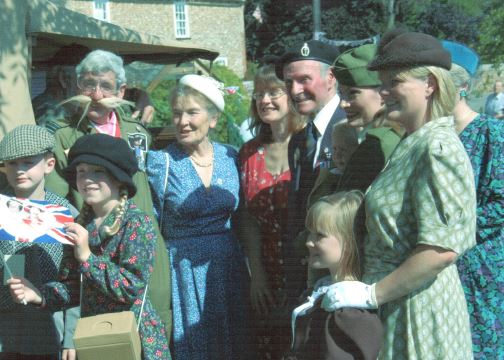 Fungi Find 1976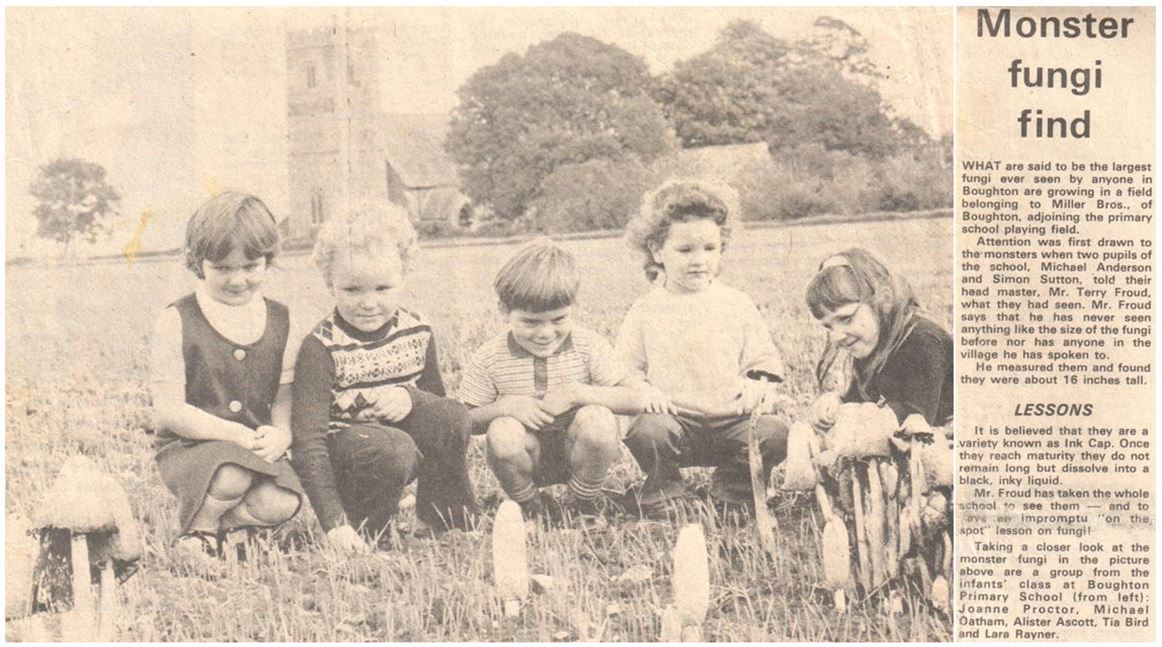 Watton Times Gazette and Journal October 8th 1976