Boughton
Please click here for more pictures of Boughton and our community activities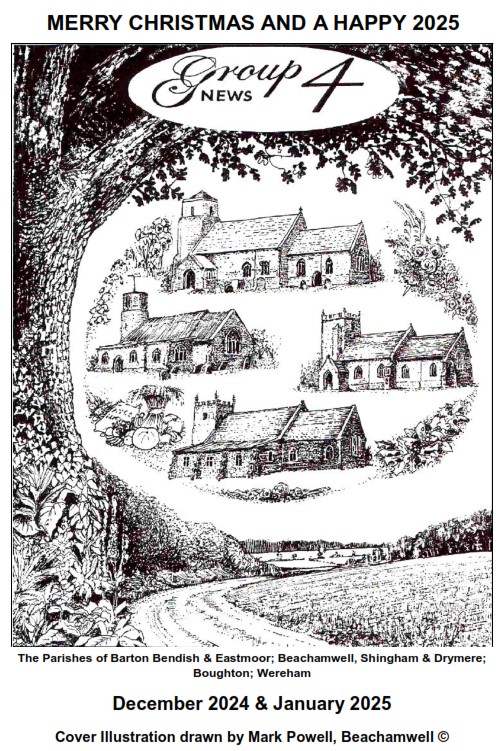 Please click the image on the left for a pdf copy of this months Group 4 News

All Saints' Community Space - Use and Hiring
Hopefully you are aware that the re-ordering of Boughton All Saints' is now complete and we have a wonderful facility that is available for the use and enjoyment of all. We have a clear floor area, seating, heating and kitchen and toilet amenities, in fact everything required to cater for your event requirements.
If you would like to use All Saints' Community Space for an event you are organizing such as a family occasion, a community event, a meeting or you would like to hold an activity or class here, please contact Sandy Reid on 01366 500743 email: reids.boughton@btinternet.com or Pam Wakeling on 01366 500429 email: p.wakeling621@btinternet.com for hiring availability, details and rates. We look forward to helping you with your enquiry.
Pam and Sandy
Boughton Postcards
Janet Stocking at Bonnets has a large collection of local postcards, including some of Boughton. Recently she produced a booklet of Stoke Ferry cards. Is there any interest in attempting the same for Boughton, using Janetís cards as a starting point?
Does anyone have some vintage photos or cards we could use? These could then be sold as a fundraiser. Contact Paul Coulten with information
Boughton Baptism (1813-1974), Marriage (1837-1991) and Burial (1813-1991) Registers
Meeting Minutes of the Boughton Parish Council